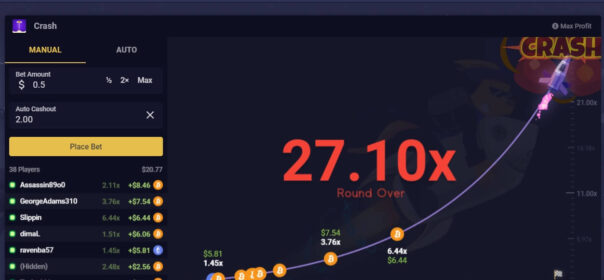 Roobet Crash is an online gambling game where players bet on the multiplier value that keeps increasing until it eventually "crashes." The objective is to cash out before the multiplier crashes to maximize your winnings. Here's a step-by-step guide on how to play Roobet Crash.
Create your Roobet Account.
Visit the Roobet website and create an account if you don't already have one.
Ensure that you are of legal gambling age in your jurisdiction.
2. Deposit Funds
Keep an eye on Roobet's promotions and bonuses, as they can provide opportunities for extra funds.
Deposit some funds into your Roobet account.
Here are Roobet deposit options:
BTC, ETH, LTC, USDT, or USDC
Understand Roobet Game
Roobet Crash features a graph with a multiplier line that starts at 1x.
Your goal is to predict when the multiplier will crash.
You can cash out your bet at any time before the crash to secure your winnings.
Place Your Bet:

After depositing funds, select the amount you want to bet.
Choose the multiplier value at which you want to cash out. You can manually set this or use the "Quick Cash Out" options provided by the game.
Click the "Place Bet" or "Bet" button to start the game.

Monitor the Multiplier:

Watch the multiplier line increase as the game progresses. It starts at 1x and will keep going until it crashes.
The multiplier can increase gradually or quickly, making it unpredictable.

Cash Out:

Your goal is to cash out before the multiplier crashes.
Click the "Cash Out" button when you think the multiplier has reached a satisfactory level.
If you cash out before the crash, you win the amount you bet multiplied by the multiplier at the time of cashing out.
Manage Your Bankroll
Set a budget for your Roobet play and stick to it.
Understand that Roobet Crash is a game of chance, and there's no guaranteed strategy for success.
Stay Informed
Gambling should be for entertainment and not used as a means to make money. Be responsible and know your limits.
Please remember that gambling carries risks, and you should never bet more than you can afford to lose. It's crucial to approach such games with caution and make informed decisions. Always check the rules and regulations of online gambling in your jurisdiction before playing.